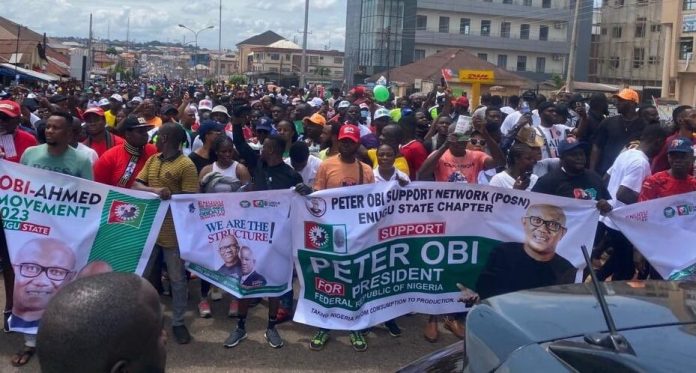 The Labour Party's (LP) Mr. Peter Obi and his vice presidential candidate, Yusuf Datti Baba-Ahmed, have received the support of professionals under the umbrella of Professionals for Obi-Datti Presidency (PODP), stating that they would provide excellent services to Nigerians if they were to win the 2023 presidential election.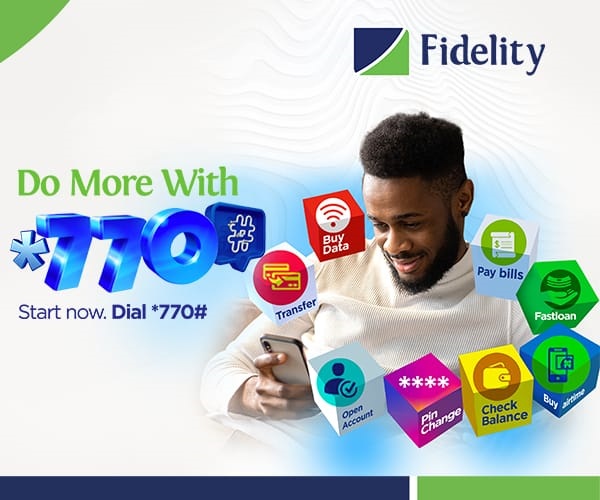 This was happening at the same time that the Federal High Court in Lagos yesterday postponed the case brought by Adedotun Ajulo Esq. and nine others seeking to stop the Lagos Party (LP), its presidential candidate Obi, Baba-Ahmed, Julius Abure, and Obidatti23 from holding a rally scheduled for October 1 until September 28.
PODP said the Obi-Datti ticket represents competence, integrity, prudence, accountability, transparency and inclusiveness, which the country urgently needs if it must be repositioned to take its rightful place in the comity of progressive nations of the world.
The group, which comprises Nigerian professionals at home and in the Diaspora, said that came together under one umbrella in answer to what they described as 'a patriotic' call to support the Obi-Datti ticket to win the 2023 presidential election, "so that Nigeria can be made not marred."
In a recent statement signed by its Convener, Dr. Ben Chukwu, a Saudi Arabia-based surgeon, PODP said the 2023 general election provides an opportunity for Nigeria to break from the tradition of poor and corrupt leadership that had kept the country down over the years.
Chukwu, a Fellow of the National Postgraduate College of Surgeons, stated that the Obi-Datti ticket was a fresh breath into "our staid politics of tribalism, nepotism and prebendalism that had hitherto wracked the nation's leadership recruitment process, often leading to the 'election' of corrupt and incompetent people into positions of trust in Nigeria."
He added: "But Mr. Peter Obi and his running mate, Dr. Yusuf Datti Baba-Ahmed are very different. In these two, Nigerians have found good reasons to look forward to the future with hope and assurance of a better life. From their public and private lives, we are assured of the stellar services of two of Nigeria's most accomplished public servants and businessmen – competent, honest, accountable and prudent. In them, we have two patriotic Nigerians with a mission to rebuild the country into a productive, wealth-creating nation boasting a huge, well-diversified economy that will no longer import everything it consumes and even consume more than it can afford.
"As professionals living at home and in different countries of the world and plying our trades in environments conducive for our professions, we are supporting the Obi-Datti ticket because we believe that the incoming Labour Party government will make Nigeria better for us all and good enough for professionals to once again practise under conducive atmosphere and even for professionals who had left for greener pastures overseas to return."
While appealing for issue-based electioneering as the campaigns are about to formally start, PODP urged candidates of other political parties to try and address problems facing Nigeria and Nigerians and how they plan to solve such problems rather than waste time and energy running one another down.
"Nigerians want to know how the candidates plan to solve the country's numerous socio-political and economic problems. Nigerians are no longer interested in where any candidate comes from; we are more interested in what the candidates have to offer, how they want to solve our problems," Chukwu noted.
PODP warned, however, that the group would not fold their arms and watch any attempt to compromise the election by corrupt politicians and INEC officials, advising those nursing such thought to perish it.
"While we commend INEC for the preparations so far, even amidst some of the observed hiccups, we, nevertheless, warn that INEC must do everything humanly possible to conduct free, fair and transparent elections next year.
"The Commission must test-run its processes and equipment to ensure optimum performance of such processes and equipment ahead of the election. It must update the voters' register to ensure that all who have registered to vote actually vote in the election.
"To the politicians, we have only this to say: Perish the thought of rigging because we in the PODP, in concert with millions of other Nigerians, who are tired of your destructive tendencies will not fold our hands and watch you ruin our future and the future of our children and children's children this time around," Chukwu added.
On her part, the Interim Secretary of the group and Dallas, US-based nurse, Lolo Kelechi Ogbuehi, pointed out that as a country endowed with oil and a myriad of other natural resources, "Nigeria should be leading in the world economy had we had good leadership."
She stated that it was pertinent that Nigerians act together and save the country by placing the right leader in power come 2023.
"His Excellency Peter Obi is the man that can do this job; he is proven and tested. Please, Nigerians, let us join hands wherever we are and make this happen. This is our last chance or we will have no Nigeria," she said.
Joined as Plaintiffs in the suit seeking to stop the proposed rally by Obi's supporters in Lagos are Salamatu Suleiman Lewi Esq., Hakeem Ijaduola Esq., Ogunbona Akinpelu Esq., Owolabi K. Oluwasegun Esq., Mogbojuri Kayode Esq, Wuyep Mantim Nadom Esq., Dimimu Mabel Esq., Kolawole Salami Esq and Mr. Wale Abe Lawrence.
The 1st to 10th Defendants in the suit marked FHC/L/CS/1729/2022 are Obi, LP, Baba-Ahmed, Abure, the Inspector-General of Police (IGP), Commissioner of Police (Lagos State Command), Director-General (Department of State Services), Lekki Concession Company (LCC) Limited, Attorney-General of Lagos State and the Governor of Lagos State.
Justice Daniel Osiagor fixed the date to hear a motion for an injunction after taking arguments from the parties on the mode of service of court processes, among others.
When the matter first came up on September 15, Justice Osiagor had directed the plaintiffs to put all the defendants on notice and adjourned the hearing of the substantive motion to yesterday.
At the commencement of proceedings, Messrs. Romeo Ese-Michael with Kayode Mogbojuri appeared for the Plaintiffs.
The 1st to 4th Defendants were represented by a team led by Daniel Ibeagu while Jonathan Ogunsanya represented the 8th, 9th and 10th Defendants.
Counsel to the 1st and 3rd Defendants objected to the mode of service but Justice Osiagor ordered that they should be served in court.
The judge admonished parties to abridge time as the matter was of importance, noting that the motion on notice must be heard and determined before October 1.
He further urged parties to avoid technicalities meant to frustrate such a sensitive matter.
The Plaintiffs in the suit marked FHC/L/CS/1729/2022 filed an ex parte motion through their counsel, Mr. Dada Awosika (SAN), leading Temilolu Adamolekun and others.
They argued that a repeat or celebration of the "infamous" #EndSARS protest of 2020 under the political guise of "#Obidatti23 Forward Ever Rally" would cause a breakdown of peace and would result in post-traumatic stress disorder for them and the public.
They prayed the court for an order of interim injunction restraining the 1st, 2nd, 3rd and 4th defendants, their associates and loyalists from conducting the scheduled #EndSARS Rally tagged as the "#Obidatti23 Forward Ever Rally on the 1st of October, 2020 or any other subsequent date, at the Lekki Toll Gate until the hearing and determination of the Motion-On-Notice dated September 12, 2022.
They also want a court order of interim injunction restraining the 5th 6th, and 7th Defendants from allowing or granting permissions to the 1st, 2nd, 3rd and 4th Defendants, their agents and the organisers of "#Obidatti23 Forward Ever Rally" at the behest of the 1st, 2nd, 3rd and 4th Defendants from carrying out the said anniversary on October 1, 2022 and any other subsequent date.
The Plaintiffs also have an order of interim injunction restraining the 8th defendant (LCC) from granting permission to the 1st, 2nd, 3rd and 4th defendants, their agents, privies, allies and loyalists, to make use of the Lekki Toll Gate or any space under and within the control of the 8th Defendant for carrying out the said anniversary on October 1, 2022, and any other subsequent date.
This is another opportunity to own a faster-loading website to expand your business and take it digitally online. Meet the best website designer/master coder for any kind of website. Contact them now it is affordable Chat now: 09077260922