Sterling Bank, known for its long-standing investment in Education has signed a memorandum of understanding of supporting Educare and Unify in building a future of health and education for the teeming populace.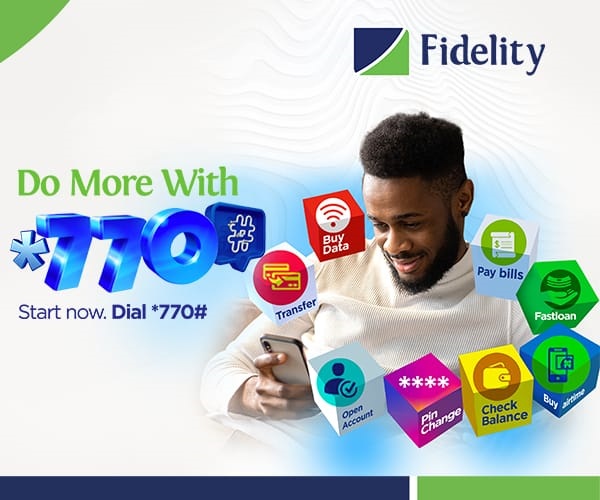 Making this known at the Sterling Towers in Lagos where the epoch-making event was held, the divisional head of Sterling Bank, UKACHUKWU said
Addressing the newsmen Professor Kamar T. Adeleke,said that,"Point of consultant in Educational sector, no, it is an Edu-Tech company.
" Sterling Bank is interested in education, we have heavily invested in education, but what are we? We are a bank, so what do we do? We support the operators to achieve the results they want to achieve.
" That is it basically what we do.
Yes we have professional people in the sector, but we are purely a bank, and we decided to invest in Health, Education, and Renewable Energy platform. And we said, hey!! There is a lot to offer in other areas. We needs to do in the future but we think these are areas that Nigeria needs to investment. Unfortunately, these areas where commercial banks are shy.
We don't just put out our effort and dedication in the media, but we are doing the work. We are putting in our capital, we are putting in our work, we are putting our expertise behind people the are ready to transform the space.
" We have a vision, we think there is way this can be transformed, and that is why when people tell us their stories, we quickly create the match. And that is why immediately Africa Edu-Care told us the story we said hey!!!. This is exactly what we are thinking, and even without full clarity on how we will achieve our goals, we are on the journey together, so why not just work together, and do these things and definitely that is how we have been doing it.
Also from the African Edu-care Team, we have Mr. Adebayo, CFO African Educ-care, we have Mr. Boluwa Ajibola, the personal assistance to and last but not the list, we have Mrs. Kemi Oladipo, and she is a Corporate Secretary under Funmi robot and co, working with Africa Edu-care team.
There are actually a lot of work from Unify from Africa but I just want introduce a couple of people
At the helm of affairs here, we have the General Manager, for C1 Ventures, in person of Babatunde Oyebamiji, and by my far right, we have Mr. Funsho, who happened to be the CTO, for C1. And here we have Mr. David Sogbeto, who happened to be the captain 1 manager for we have other of my colleagues and Obinna, and my humble self.
Overseeing every aspect of the project we have, last but not the list, I will also like to acknowledge the Ladies and Gentlemen of the Press. Who I believe are here to really throw light and project these partnership and help us take it to the next level.
Moving on swiftly, the introduction remarks for the benefit of those that probably did not know why we are here. I just want to take some time to tell you a little bit of story. This happened to be a journey, that we have built over a period of time and we are happy that we are finally seeing this journey coming to some sort of profitable ends for both Sterling Bank, Unify and African edu care.
Sterling Bank happened to be a house hold name, like we all know in Nigeria, and it has pride itself investing heavily in Five key sectors. Those sectors includes: Health Care, Education, Agriculture, Labour, and Energy and of course Transportation.
We believe that, diversifying our investment into this key sectors, is key to ensuring our survival even beyond this generation. This is why you see us engaging in sustainable projects, and see us all around. You will know we just trying to provide glasses all round this building leaving them with solar panel and in no distance time have this building powered 100 percent by solar, it is a project that is currently ongoing and we expect that in no distant time, it will be completed, and rather than resulting into fossil fuel to generate electricity.
We having to rely on solar, which is obviously much more sustainable energy, so things like that are what Sterling Bank is known for, the same way we are making giant stride in renewable energy space, so also we are investing in health care and Education which is one of the reasons why we are here today.
You know, we sign an agreement with the Africa Edu-care tem, who are renowned educationist. You know I forget to mention when I was introducing Professor Makinde, he happens to be pioneer Vice Chancellor of Babcock University. So he and the rest of other type of Africa Edu-care and TRIS team come with a lot of experience, especially in the area of Healthcare and Education.
And we believe that the strategic alliance between the health care and the educational focus financial institution like Sterling Bank and the wealth of experience of the African Edu-care, ICT that shyrohny is about to birth something that will be unbelievable within and outside the sore of this country.
So this is really a laudable achievement and I want to specially congratulate the Africa Edu-care team, I know it been quite of journey, in the course of the journey we have to go back and front. But we are happy that by the special grace of God that we are here now.
So I also want to congratulate my colleagues from the Sterling Bank, The Unify, I don't want to bore us with the details. I still want to use these opportunities from each of the respective teams to share their vision with us but I want to congratulate them for having gotten to this point, and I can say for a fact that, it is a beginning for many more big things to come.
I am announcing the arrival the Divisional head or business growth and Transaction Banking in the person of Obinna, So moving on quickly i like to call on Professor Jones Makinde to speak to us a little bit about Africa Edu care, what the vision is and what Africa Edu care hope to achieve.
Also speaking OBINNA UKACHUCKWU , divisional head, said, " This is actually a Unified conversation, not a Sterling Bank thing, and I am sure most people will be like, what is the relationship between Unify and Sterling Bank, we will tell you in another day not today.
But can you just imagine that Unifier is trying to penetrate or transform how education is run in Nigeria and because the muscles are so lean, they have to tide on the back on an elephant that can get them into places and help just break the walls. That is actually what the relationship is like.
At Sterling Bank we believe that education has to change, Tertiary Education, it just had to change. There is no, I was speaking at the conference and I am like why do we go to school today? We go to get certificate right? Certificate that in many cases that when I had to hire, I look to through 1000 Curriculum Vitae, and I cannot even interact with them.
I cannot even get the require skills to fill up vacancies and that is a major problem on one hand, on the other hand, there is demand for certain kind of skill globally, and we see that we can fill that gap
I think today we produced about 3000 Medical Doctors in Nigeria and as at 2020 or so we have about 2000 leaving the country every year. I think it should be up 3000 now if not more, and if we add a 16000 gap or 160,000 gap.
You can imagine what we need to invest just in health workers: Nurses, Doctors, and it takes us 6years or 4yrs to train. So to cover the gap you need to multiply that gap by six and that is what you need to have
That just tell you from an economic perspective, why Sterling says it is important to back anyone that is trying to that is trying to something in this space. In fact not taking a swipe at regulators, at the regulators, that is the University Commission. You see the harder the pain that is taking the people like Africa Edu care to get a license is not worth it.
It is really not worth it, you don't need the person to tell you to get this asset, this building and that when the world as really moved on.
We celebrate people that have gone abroad or go to school abroad. The fact is some never went into a class room, and they come here with certificate, they what they are doing and we celebrate them. But the school never had to have solid brick and mortar and when we want to replicate things like that here, the hurdles is just too high.
The question is, the one's with brick and mortar, especially the government funded ones what really have we done. And in the case where we have even done something, is it sustainable? we have been out of school for 8months. It is a matter of inflows not matching the outflows that is the money needed to run it and what out weak on that money? The infrastructure, the people, and the way you set up.
So it all means that model for probably a poor country, it really cannot work. We've got to find a way to create a new model that gives you better outcomes that can be funded more efficiently, and that is what unifier is trying to do. Unifier is trying to see, how it could enable schools, taking more people without putting more bricks in their schools. So is it possible for this your building to have three set of first year student or three set of first year students
So you can do five times what you are doing today, you know that is basically the foundation the Unifier is trying to do. In fact and we also believe that were we are in the world today, we've got to find the blend between apprenticeship and education. Because apprenticeship is pretty much education if we must just leapfrog, grow our skill base people must learn how to work on the go.
So we have various models were we think students can grow in environment like this. Can you just imagine if you get the High school, and I admit him into one of my Technology department and he is studying with Africa Edu care or MARANATHA Online, and somehow there is a blended programme in two years, he is probably going to graduate with a Computer Science degree and he will be better than any computer science from a four year or five year University.
While? Because as n high school graduate, he came in and started working and he was learning at the same time. That way we can convert all these our sleeping assets private sector into the Universities, but if you must do that, you need an Edu Tech company that can bring all these things together were Corporate Organization could play, Education institution could play, Policy regulator will play well and that is what Unify is trying
to do. We are trying to build that backbone where these whole transformation will ride. I know, probably in trying to get license, they have gone through different approaches and what they are working out with Sterling now is probably acquiring University but again, it looks like the last option, that is not the original motivating option that the institution would have taken.
Because the institution wouldn't have preferred to commit tremendous capital on brick and mortal that probably has 20 percent or 15 percent to the entire value they are trying to create. Of course they could build Sterling building, it is the truth, I could have cleared two floors, and say hey, come whatever you want, come and use this place. We would have building learning laboratory today EPE OR somewhere, I will say go use it.
It's a open learning laboratory instead of telling them go commit how many billion and that is a real challenge that are trying to solve.
In Sterling Bank we are trying to crack with them, we hope that goes through but whether that happens or not with unify and Maranata we decided that we will take the bull by the horn and transform this space. There is no going back because the country needs it. Today children sitting at home for 8 months, skills people are leaving, can hire, so something needs to be done and we have decide to it and we are going to do it.
The regulators we are going to come along with you, but the light already confirmed what I was saying so than you, thank you and thank you very much.
J. A Kayode Makinde
Actually, there is a little breach of communication gap, when people talk about Professor Makinde was actually sitting there. That is Professor Yetunde Makinde she is director of the Africa Edu care one of the directors. My name is J.A Kayode Makinde and I serve as the President and Chief Executive officer of Africa Edu Care, of course my brother and friend here, Professor Kamal Adeleke has been , I don't even know how to describe him anymore.
But for this project, he is persistence, Africa Edu care is actually a two-tier company, Education with stands for the "Edu and Care that health care and the third one is Africa. Which means Africa is really our focus that is why you need education all the tick cloud of darkness and ignorance that is fuelling diseases and other things.
So by the time we take those two, we have taken two out of the five keys, of Sterling Bank, and because we are going into renewable as well, we are hitting on the third one.
Africa Edu Care has five areas, instead of the STEM education that they do out there in Europe and America. We go STEAM (Sciences, Technology, Engineering, Education because we believe in sustainability to be able to pass this knowledge on to the future generation, and the A for Agricultural Business
We are not just doing agriculture, for us is Agric-business because we believe that Africa for too long as more or less be like the farm land of the entire world.
We produced all raw materials and ship it off and they returned to us they returned to us processed and refined and at the end of the day, you discover that the producer which is Africa has just 5cent on the dollars, but the refiner has 80 cent on the dollar, why the middlemen like 15cent and we want change that by actually increasing the local content dong a lot of processing and refining. So that we can at least move up on the value chain. And that is why, first is Agribusiness rather than agriculture.
So African Edu-care was established in the 2015, the question was Babcock here, we thank God for as happened at Babcock. But if you cannot repeat a successful venture, then it is just an accident rather than a real project, rather than something that is a product of research and development.
So Babcock started out as one the first of three private Universities that were license by the government of the federal Republic of Nigeria in 1999, precisely May 10, 1999we get our license and two other Universities'. That was when the fourth Republic started with Obasanjo coming in as President May 29, 1999.
And the very first thing the new government tries to do was to kill the private University idea, because Mr. President did not believe in it, because when he was the head of State his administration with that of Murtala Mohammed Nationalized the regional universities: Ife, Nsuka, Ahmadu Bello and turn them to national university. So when he came, he did not believe in it and the idea was no, well I government cannot fund education, what are private organization doing, it is just going to be a mess.
So they had to warned him, that he should be careful that if people had invested in these by law, and you just, you are not a military head state anymore like before you cannot ruled by decree. So let's go by due process, may be you had a lot of due process and that was why he now sent a visitation team to do some resource verification. Good enough that was the time, when I started out as the acting Vice Chancellor of the first private university
They came, and found us already on ground then they had no other choice than to allow us to continue running. But that is not really the story, the story is that the credibility of University system was so established that the Mr. President who was so skeptical, he himself went to establish the Bells University Ota.
That tells you that, to convinced and convert such a very die-hard skeptic tells you the story of the private University, and it enduring qualities. But after you have has done something, how do you sustain, Babcock was, and it is still is, even though it is trying to reinvent itself a conventional private University.
And all the specialized University that the federal government established were only specialized by name. Whether is FUTA, FUTO FUTI, you will see they are doing a lot of Business, MBA and even when they deliver degree in technology or Engineering. Those products are hardly market ready, they still have to be retrained.
So, Africa Edu care then has I was finishing my term as the President of Vice Chancellors of Babcock, so the question is so what next and we had to decide, so the inspiration is let us do Babcock 2.0 . In other words let's take the private university experience into the next level, and that is why we move from conventional University to a specialized university.
And we don't even call it a University anymore, but the MARANATHA institute just like you have the master Joseph Institute of Technology(MIT) But for us it is the Maranata institute of Science and Technology that is what we came up with.
It is not that everybody is just going to University, but Nigeria is a market. Once you do something that succeeds everyone will flood into it and floors it, whether it is popcorn, whether it is coke, whatever thing it is everybody just rushes there. You can look at the number of the petroleum stations limning up the street even when there is no petroleum to distribute.
So for us, Africa Edu care, now at the forefront is still the same team that crafted the nation first private University, that is now opening to do a specialize University level. But that is going to actually combine practice and theory. So the MARANATA Institute of Science and Technology which is the product of Africa edu-care is the promoter, but the institution is the Maranata Institute of Science and Technology (MIST) and that is the one that the Unifier is coming in to partner with to lift to the next level.
So when we talk about MIST, we talk about , we talk about Africa Edu care , just like you have sterling, then you have the C1 , it is more or less the same arrangement, you have the promoter, then you have the institution.
Africa Edu care, MIST that is the institution is going to hit the ground running this year, it is going to the first set of student hopefully January next year for the 2022/2023 Academic session. We are on the verge of closing the deal to acquire an existing private university, but because we have not close the deal, I am not going to name it so that we do not put the cat before the horse.
Because when people read junks in the paper and say whao!! We don't want anything going wrong at the tail end of the deal. But everything is incidentally Sterling is still the one that is leading. So is that on those two areas Education and health care which is basically, the key even to agriculture and anything else.
Sterling Bank, is still at the forefront partnering with Africa Edu care and partnering with Tristate So TRISTATE is the healthcare arm, whereas Maranatha is education arm part of Africa, those are two legs on which Africa Edu-care is functioning.
We are bringing in a new strategy to get us out of the rut, you know we have approach virtually all agencies. The National University commission for the license to run, because the University we are acquiring already have license, operational license, but we have to do needful in terms of legal proprietorship. At the moment, we are bringing the new material curriculum that does not exist currently or the one that exist like Aerospace Engineering, the Aviation Technology, some of those things, Bio-programs and Defence Engineering, wood work Engineering.
We are not just going to have China come here cut the wood and take all the wood, and they will pay peanuts for that and bring back as furniture and all kinds of things and then we begin to pay through the nose for it.
Railroad Engineering for instance, we are not re-inventing the will, we are just going there doing some kind of reverse engineering looking at what it is that those economies that have taken up, even if they have the same cultural, the bricks.
The India, China, Brazil and others developing economies, Actually we have gone for the past seven years doing all the research all around and seeing all kind of curriculum they are doing and how they are doing it.
And we also recognized that we don't have the knowhow, in the Nigeria University system we know the theory, we have P.HD, Professor in Engineering but the question is what have we Engineer, what have produced? In fact what have we maintained? The thing that we imported, have we been able to maintain it? The answer is NO.
What we are doing is that, we are bringing in very knowledgeable and qualified trainers from out there, we are going to be paying them, but on the next level to understudy them. We have Nigerians who already have a lot of the theoretical knowledge and there are now going to be impact skills.
At TRIstate, Professor Adeleke did that wonderfully well, to start Tristate, what he did was to hire Doctors. He hired Doctors and Nurses, about 15 Doctors from India, from all over the world. But right now, all of them are Nigerians in just a space of five years. So the idea of let's do brain gain, instead of brain drain. Like the doctors that in the past 12months, Nigeria has lost about 2000 or more doctors to the United Kingdom alone, not to talk about Canada.
We don't have to panic because of that, actually it is supposed to be a source of joy, because aside from yahoo, yahoo and 419. We have right now legitimate export, because nobody drains garbage. If there is brain drain I means people appreciate what is coming from you. Then produce more of it, instead of just mourning and complaining that people are going out. If we produce more, see what the Philippine's are doing, there are Philippines doctors and Engineer all over the world.
They don't have all these natural resources. What they have is human resources and Nigeria has in more abundant by 2050, Nigeria going to be the fourth most populate country in the whole world, turns this army of young people, give them skills, let them do something. So Marathana is into science and Technology and TRIA state this is what they are doing together as Africa edu care, I believe that is the summary of our course now.
It was actually in the course of getting Sterling Bank, Sterling was the one that caught the vision to give the financing to TRIstate, hospital and what we are doing. And what we are doing. And then they discover the MARANTHANA spirit and they said, wait a minutes we have in education, we can do the healthcare, we can do the education, and that is why we here about the Unify.
The M.D and then the Divisional head have been just incredible, they have team that are just basically unstoppable Because without that TRIState will not be doing what it is doing today. And Maranatha will not be sitting here, and doing what we have started doing.
So congratulations, Mr. Sterling, the Unify team, I want to also congratulate from the African Edu -care Professor Adeleke, Mrs. Kemi Oladipupo , the Secretary Funmi Roberts and Professor makinde who is Mr. Bolu the Chief Financier Officer for Africa Edu care and others.
---
previous post
POLICE INTERCEPT CACHE OF LIVE CARTRIDGES, ARREST SUSPECTS